A continuación los invitamos a leer algunas noticias destacadas del Departamento de Inglés del año 2014:
Spelling Contest
Once again, the English Department  organized  the traditional Spelling Contest. This year 2014 it was the 5th.
There was a selection of voluntary students who wished to take part in this amusing event. On August 7th, the contest took place. The competition was per level. It was really exciting, especially for the fifth graders, for it was the first time for them to compete. The contestants were cheered up by their classmates.
The winners are the following:
| | | | | | | | |
| --- | --- | --- | --- | --- | --- | --- | --- |
| 5th CLASS | 6TH CLASS | 7TH CLASS | 8TH CLASS | 9TH CLASS | 10TH CLASS | 11TH CLASS | 12TH CLASS |
| AMANDA NARR | VÍCTOR NÚÑEZ | SOFÍA URMENETA | ISIDORA BRICEÑO | MARTÍN CORVALÁN | LUKAS OBERZEISER | CATALINA NAVEAS | JAVIERA SÁNCHEZ |
Karin Walker
Head of English Department
International English Exams
This year 2014, 32 students will sit for the International Exams of the University of Cambridge, England, in November and December. 7 students from 9th class will be taking the PET, which is level B1, Low Intermediate, 23 students from 12th class will be sitting for the FCE, level B2, Upper Intermediate and 2 students from 12th class will be examined to get the CAE, level C1, Advanced.
We wish them good luck and success!!
English Department
Role-playing in English
9th graders prepared role-plays about the Pilgrims in Plymouth, just making notes and improvising different situations. They demonstrated being very capable and talented in the English language and very creative in their stories.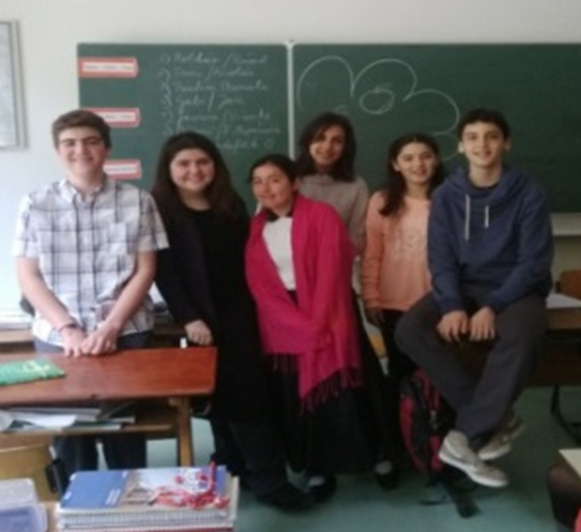 English Department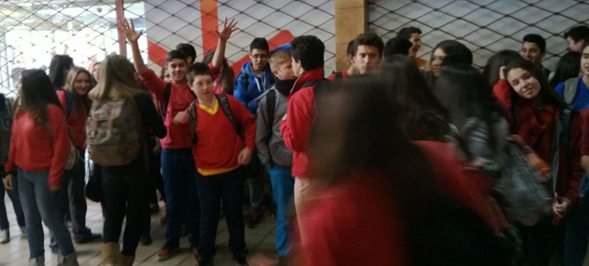 On October 8th, the 8th graders attended a play called TRANSYLVANIA, at Cine Arte Theatre in Viña del Mar. It has already become a traditional activity from the English Department to invite 8th graders to watch a play, performed totally in English. It was really entertaining for the students to hear the actors say their lines and sing in English. When asked, students said they liked the play and they were very proud to realize that they could understand it from the beginning throughout the end.
Karin Walker
Head of English Department